Is your in-ground pool's vinyl liner faded, bleached, wrinkled, or developed a leak? Trust the experts at Colony Pool Services to repair or replace your vinyl liner promptly.
Common Issues Facing Vinyl Lined Pools
Vinyl in-ground pools are popular here in Delaware & southeastern PA because of their affordability and ease of installation. However, the biggest concern is the vinyl liner itself; any damage or puncture can leave you waking up to a half-filled pool.
The most common issue is a puncture to the liner, either by an earring, dog nails, or foreign object. Even the smallest pinprick puncture needs to be patched or you will constantly lose water from the leak. Other issues facing vinyl pool owners includes bleaching, fading, or wrinkling of the liner. That's because vinyl liners are sensitive to poor chemistry – including too much chlorine or low alkalinity.
Vinyl Liner Repairs
Not all vinyl liner problems require replacing the liner. After we detect and locate a leak, we can patch the liner and eliminate the leak. Sometimes the vinyl liner comes undone from the fasteners at the top of the pool; our team can carefully reinsert them without damaging the liner. In addition, we can replace the vinyl liner steps if they are damaged or worn.
Replacing a Vinyl Liner
Replacing a vinyl liner usually takes 2 days: 1 day to drain the pool and prep it for installation, and 1 day to install the new liner and start filling the pool up again. Installing an in-ground pool liner takes warmer temperatures (50-60 degrees at night), so we schedule these installations during the summer months.
After installation, we will train you on proper maintenance and pool chemistry so that you can get the full 10+ year life expectancy of your new pool liner.
Vinyl Pool Liner Repairs in Delaware & Southeastern PA
Not any pool company can repair or replace vinyl liners; it takes real skill to make these repairs. Our team of vinyl liner experts have 10-15 years of experience working exclusively on in-ground vinyl pools throughout Delaware and Southeastern Pennsylvania.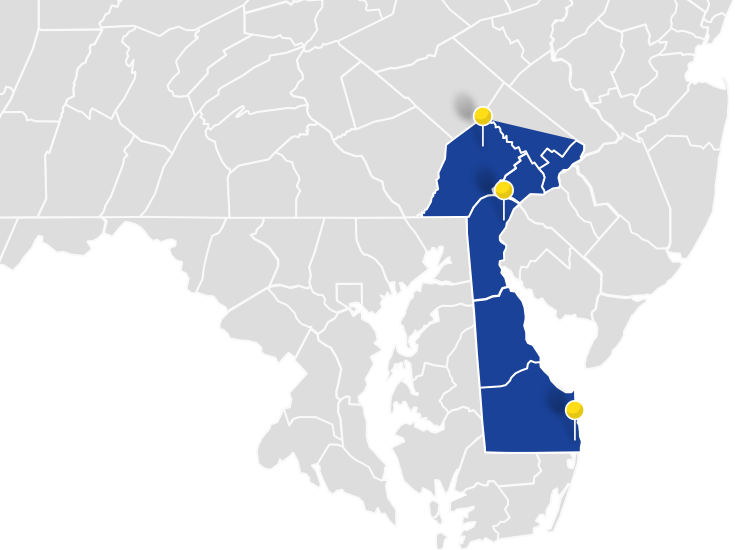 What Your Neighbors Are Saying
Colony Pools is my go-to company when I need repairs to my pump and equipment. We have been using them for several years now. We also have them for closing the pool.
Vinyl Liner Request a Quote